Welcome to The Sweet Life
Custom Cakes Made For You With Love
Each bite is a journey to happiness, where the sweetest pleasures will be defined in unforgettable memories. 
We await you with open arms in our bakery, where every day is a celebration of The Sweet Life.
Nicole and Jose Velasquez, owners of The Sweet Life, have been passionate about baking for decades. Together, they have over 20 years of experience in creating delicious desserts from the heart. They've both spent many years working in authentic Italian Bakeries around Long Island, where they honed their skill and developed recipies that they are proud of and they know you will enjoy. They're both extremely passionate about bringing you excellent quality ingredients coupled with a beautiful presentation that you can be proud to serve to your guests at your next event.
Our Franklin Square location opened in February of 2023 and is currently their only location. They are thrilled to be a part of the Franlin Square community, which has welcomed them with open arms!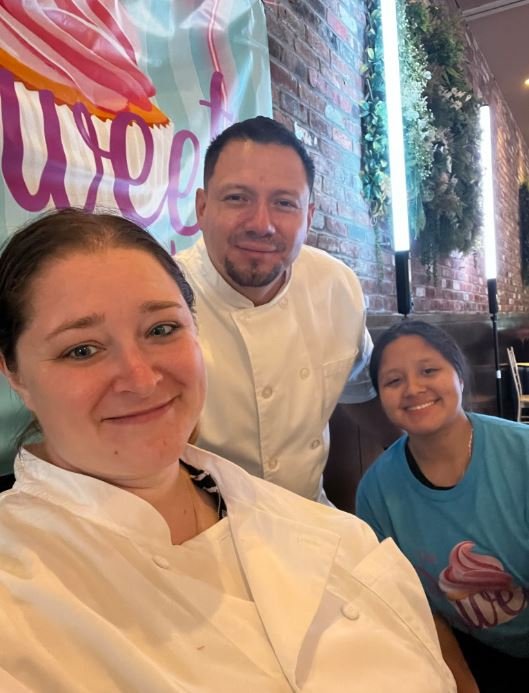 Welcome to a corner where flavor and imagination merge into edible masterpieces.
Each design is a collaboration between our expert pastry chefs and your ideas, resulting in unique creations that speak directly to your tastes and preferences.
Let us sweeten your special moments and turn them into unforgettable memories.
We await you with open arms at The Sweet Life, where delight is guaranteed!
We focus not only on the quality of our products, but also on providing exceptional service.
Follow Us on Our Social networks
Our selection of croissants is a celebration of the diversity of flavors. From the classic butter croissants, with their intoxicating aroma and delicate flavor, to croissants filled with delicious options such as Plain Croissant, Raspberry Cornetti, Nutella Cornetti, find a wide range of options to satisfy all your cravings.
Each creation is an edible work of art, meticulously decorated to delight both the eye and the palate.
But we take pride in not only offering a wide variety of high-quality products, but also in providing an exceptional experience to every customer.
Our friendly staff is here to help you browse our selection, answer your questions, and recommend the options that best suit your tastes and preferences.
Each cake and dessert is made with carefully selected ingredients, which are combined with the expertise of our talented pastry chefs.
Every layer, every trim, is an expression of our dedication to bringing you delight that goes beyond the visual, reaching for complete sensory pleasure.
It was the perfect way to celebrate our love, and we couldn't have been happier with our choice. Thank you The Sweet Life for making our anniversary unforgettable!
I ordered a custom designed cake and it was a masterpiece. The flavors were amazing and the cake was moist and light.
The Sweet Life is my go-to bakery for all my special occasions. From birthdays to holidays, their selection of cakes never ceases to amaze me.